This post contains affiliate links, which means that we may receive a small commission, at no additional cost to you, if you make a purchase through these links. See our full disclosure here.
Checked baggage should be efficient, which means it should offer enough space for your travel essentials while still being easy to maneuver and ideally within airline weight restrictions.
Our picks for the best lightweight checked luggage in 2023 are tough enough to handle anything thrown at them, chic enough to make you feel confident, and loaded with smart features for an enjoyable travel experience.
Monos Check-In Large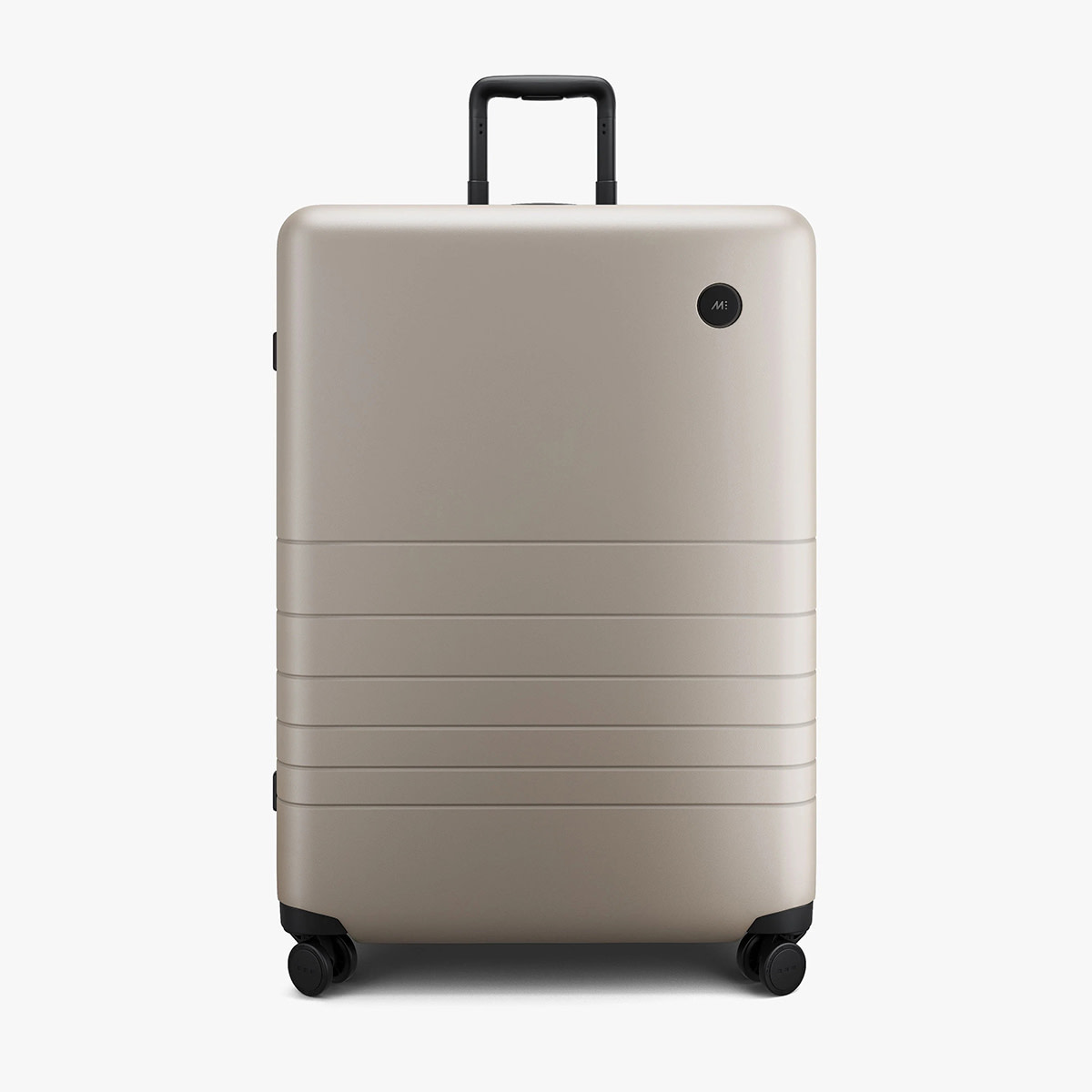 Size: 30″×21″×11″
Lester: 10.58 pounds
Volume: 99.2L
Do you want a big and beautiful suitcase that will allow you to travel around the world without compromising your trip or your look? No other lightweight luggage bag does a better job of combining style, durability and value than the Monos Check-In Large.
Cut from aerospace-grade German polycarbonate, its sleek, clean silhouette is detailed with vegan leather detailing, color-coordinated YKK reverse zippers, and a scratch-resistant matte finish for a look that lasts. It also features a built-in TSA-approved lock, best-in-class Hinomoto wheels that make maneuvering on almost any terrain easy, included European pavers, and an innovative telescoping handle with a release button underneath for added convenience. convenience.
Equally well-designed, the interior is lined with luxurious anti-microbial fabric and equipped with thoughtful pockets and panels for the most efficient packing.
Travelpro Maxlite 5 26″ Medium Check-In Expandable Rollaboard
Size: 28″ x 19″ x 11″
Lester: 7.1 pounds
Volume: 100L
If you're looking for sturdy but lightweight luggage to check in, this 26-inch soft spinner is a winner.
A favorite among airline staff, Travelpro makes some of the best fabric suitcases, and the Maxlite 5 Medium Check-In Expandable Rollaboard is no exception. Designed for frequent travelers, this practical piece features a DuraGuard coated polyester exterior that's both stain-resistant and water-repellent.
Fitted with four 360° spinner wheels and sturdy, well thought-out handles all around the shell, the bag is extremely easy to maneuver and keeps contents neatly organized with two spacious exterior compartments, a full-length interior pocket on the lid and a practical side pocket for accessories. It also extends up to 2 inches to maximize packing capacity.
YETI Crossroads 29″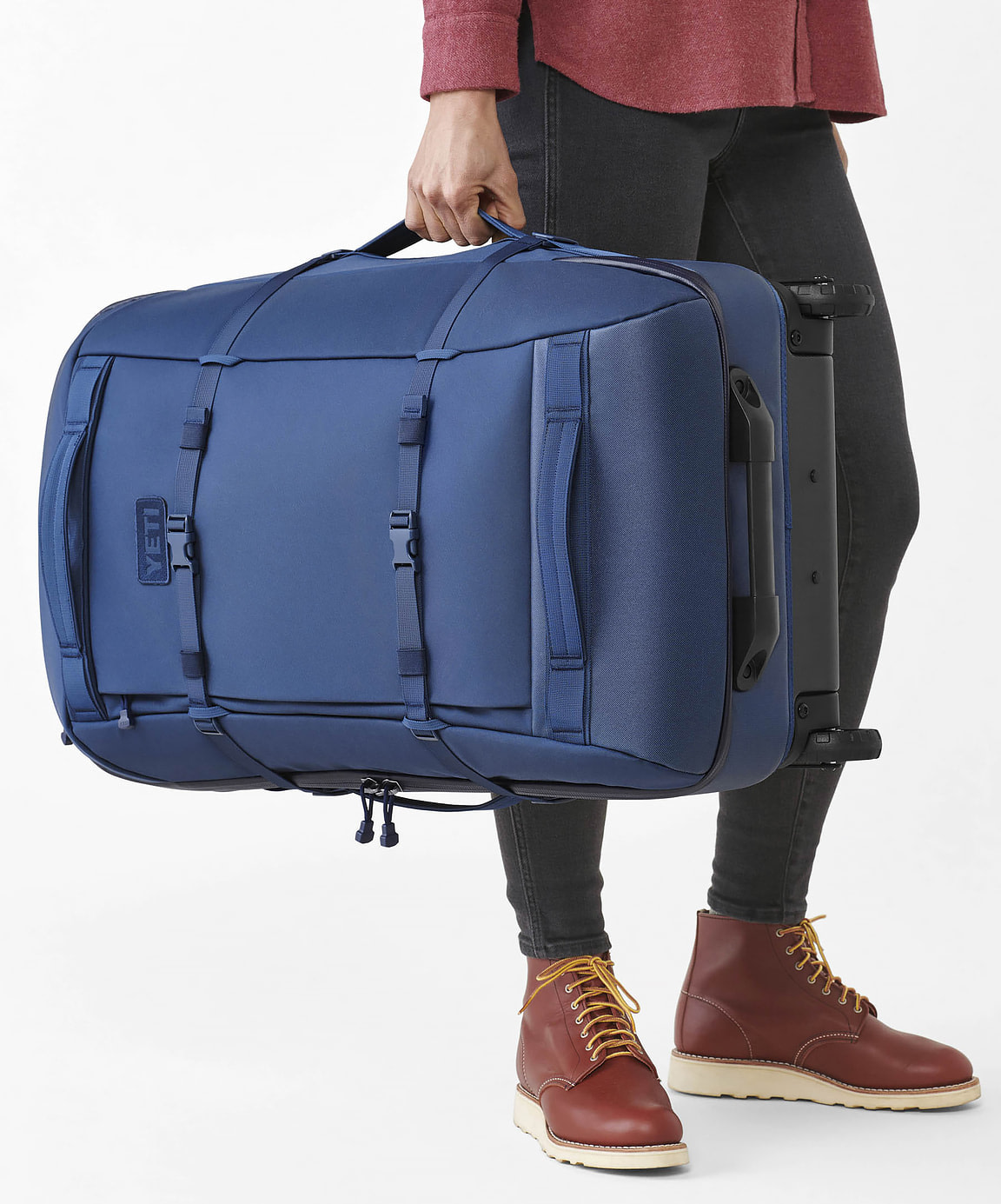 Size: 29″ x 16″ x 12.3″
Lester: 10 pounds
Made from YETI's durable Tuffskin nylon, with a hard polycarbonate back, this wheeled duffel bag is ready to withstand whatever comes your way, not to mention airline abuse.
Along with durability, the Crossroads 29″ is packed with convenient features like modular compression straps, packing cubes, plus zippered pockets and gear loops throughout. At 80L, it packs a ton inside everything. while remaining remarkably easy to maneuver thanks to its removable wheels and 2-stage telescoping handle.If there is ever an ultimate checked bag for extreme adventures, this is it!
Rollink Flex 360° Medium Suitcase Checkered 4 Wheels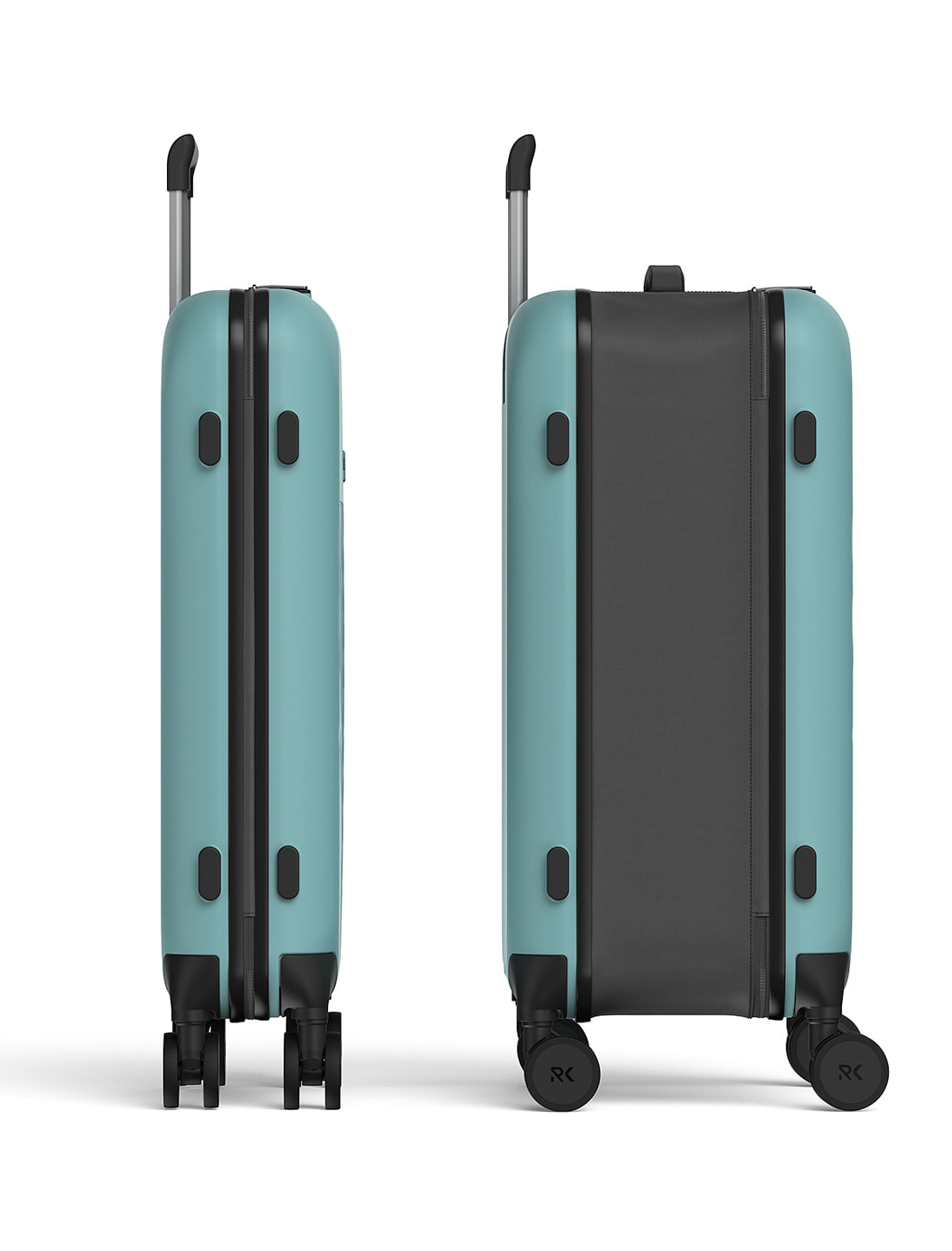 Size: 26.5″ x 18.7″ x 11″
Lester: 8.5 pounds
Volume: 85L
Good design makes for a useful product, and the Rollink Flex 360° Medium Checked 4-Wheeled Suitcase is a good example. With its innovative hybrid construction, which combines a hard polycarbonate shell with a durable fabric panel in a 6-inch-thick foldable body, it's the ideal check-in luggage for small-space dwellers and serious adventurers alike. design.
Otherwise, it sports all the bells and whistles of the best checked luggage on the market, including a built-in TSA-approved lock, dual-spin smooth wheels, an adjustable aluminum telescoping handle, and multiple interior compartments for organized storage. Its tough, lightweight hard shell is scratch and water resistant, stores up to 8 days of clothing, and comes in a range of stylish colors to match any traveller's style.
Rockland Melbourne 28 Inch Expandable Rigid Spinner
Size: 28″ x 17″ x 12″
Lester: 10 pounds
Struggling to find affordable checked luggage that does the job? Well, here it is! At just over $100, the Rockland Melbourne 28-Inch Expandable Hardside Spinner features dual spinner wheels, an ergonomic telescoping handle, and a lightweight ABS shell in tons of fun color combinations. Best of all, it expands an additional 2 inches for extra packing capacity when needed.
Inside there are two separate packing compartments with room for all your travel essentials, plus tie-down straps and a zippered mesh pocket to keep them secure and neatly packed during transport.
While it's not a particularly strong piece, its low price might make it the right checked-bag option for infrequent, budget-conscious travelers.
Briggs & Riley ZDX 27″ Medium Wheeled Duffel Bag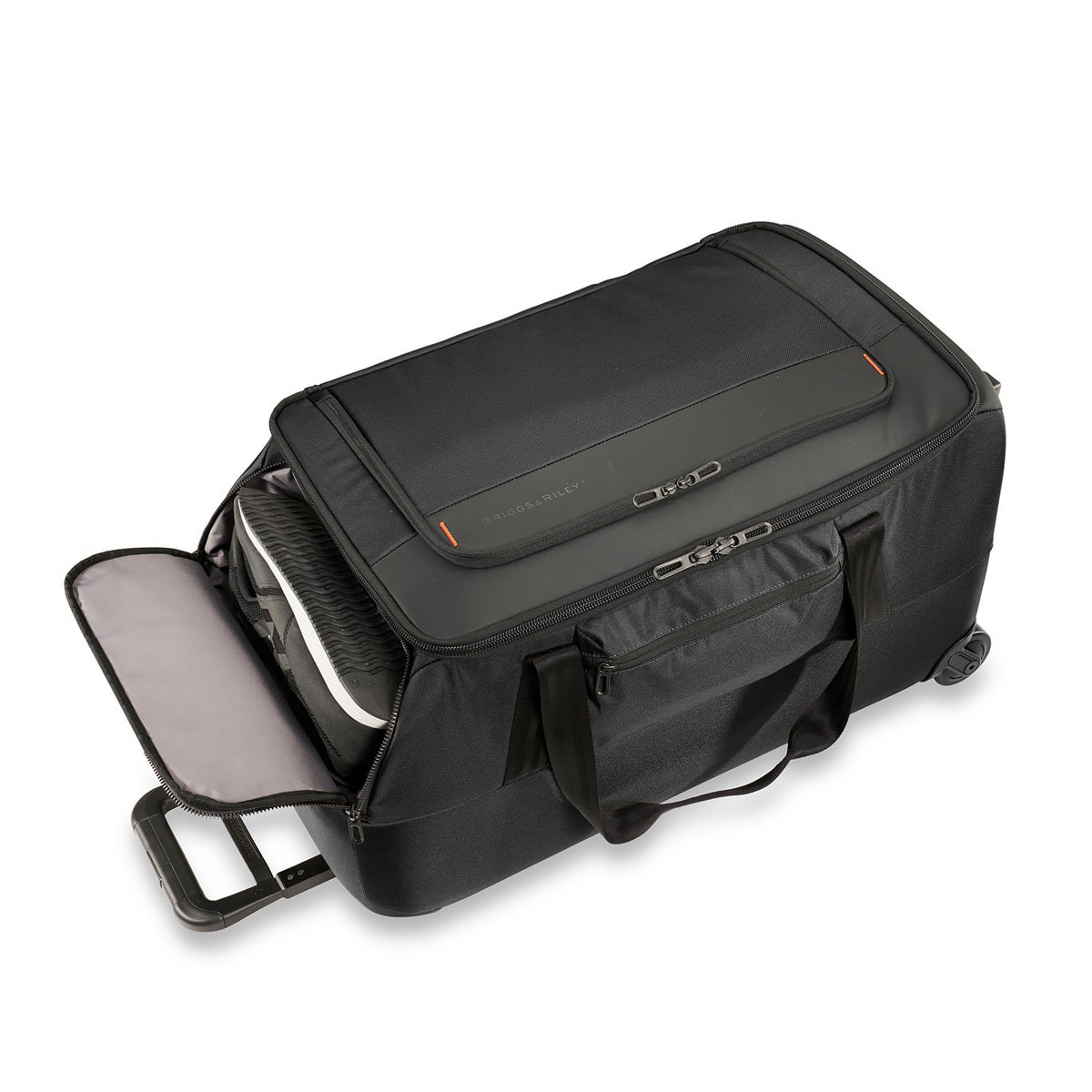 Size: 27″ x 15″ x 15″
Lester: 8.6 pounds
Volume: 96L
Combine the packing capacity of a duffel bag with the convenience of rolling luggage, and you have this fantastic piece from Briggs & Riley.
Crafted from ultra-durable ballistic nylon, with low-profile reinforced corner guards and self-healing YKK zippers, the ZDX 27″ Medium Rolling Duffel Bag can withstand all the rigors of travel. Its lightweight frame honeycomb folds for compact storage and the two low-profile wheels allow for stress-free transportation.
The brand's patented Outsider handle ensures more storage space and wrinkle-free garments, and a separate PVC-lined pocket keeps dirty items away from the rest of the contents. Extremely durable and refreshingly large, it's a great lightweight bag to literally travel the world with!
Delsey Clavel 30″ Vertical Stretch Spinner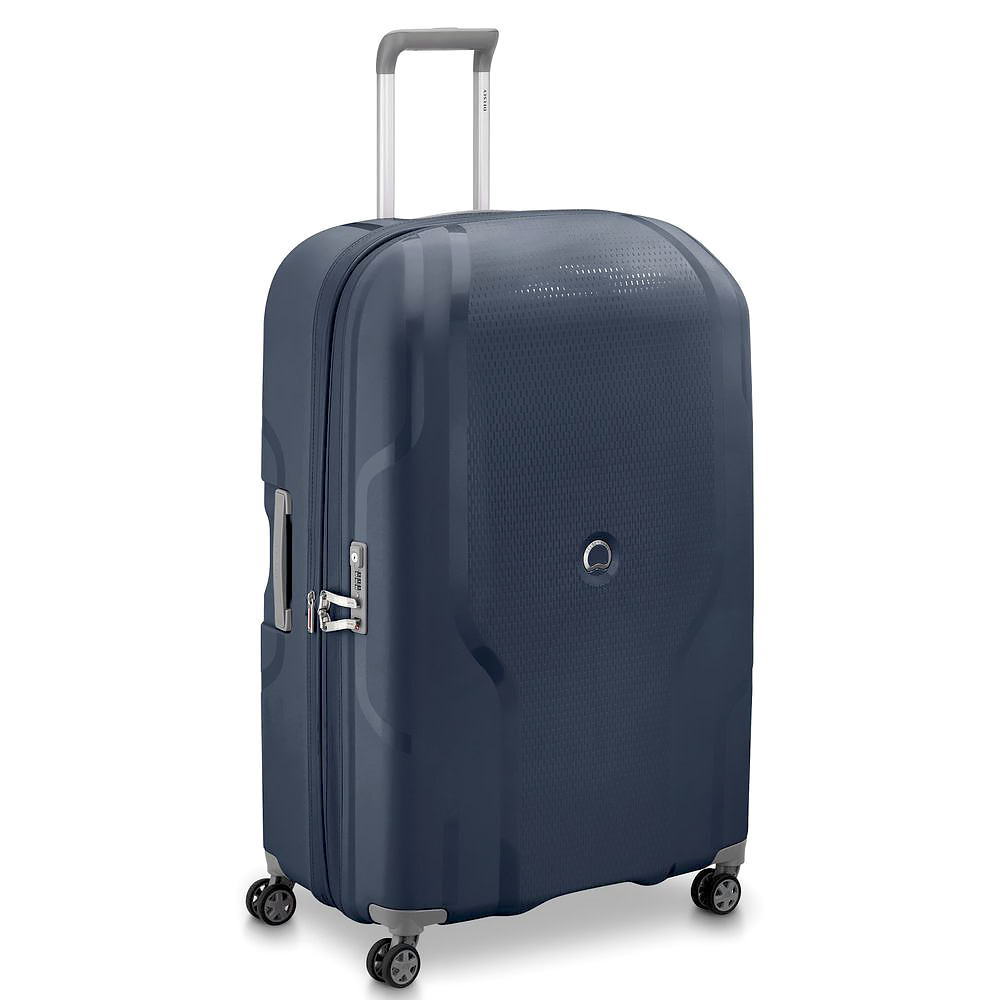 Size: 32″ x 21″ x 13″
Lester: 9.8 pounds
Volume: 136L
For a lightweight checkered spinner that looks first-class, Delsey's Clavel 30″ Expandable Spinner Upright is a serious contender.
Winner of a Red Dot Design Award, this bag is made from lightweight and durable polypropylene and features a unique secure zipper system to keep your belongings secure. It also features a TSA-accepted combination lock, quiet dual-spin wheels, and three carry handles for easy lifting. The expandable interior features two main storage compartments, plus a zippered mesh divider and tie-down straps to hold your clothes in place.
Hartmann Luxe II Long Journey Spinner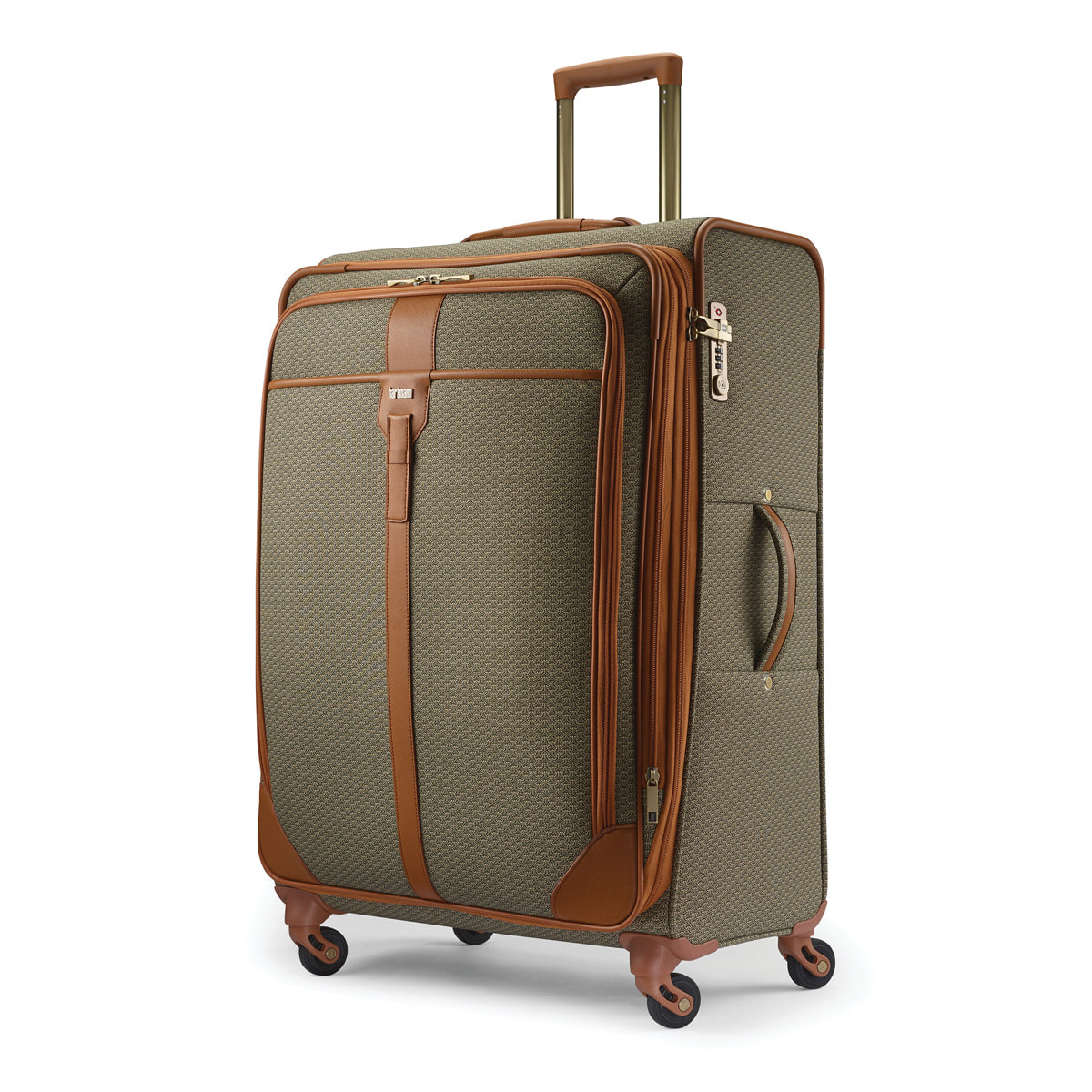 Size: 30″ x 20.5″ x 12″
Lester: 10.41 pounds
Just because you're carrying a bigger suitcase doesn't mean you have to sacrifice style!
Born in Milwaukee, USA, Hartmann has been crafting fine, high-quality luggage for discerning travelers since 1877, and the Luxe II Long Journey Spinner is no different. Rendered in a sleek polyester fabric with classic accents and brushed bronze and metal finishes, this nostalgic-looking soft-sided design is just as good at protecting your belongings as it is enhancing your travel look. It glides on four 360 degree wheels and comes with an integrated trolley handle with multiple stops for easy movement through the terminal.
The expandable interior features a deep, handy main compartment with elastic cross straps for neat organisation, and there's also a selection of exterior zipped sections to keep your important items close at hand.
Far The Medium Flex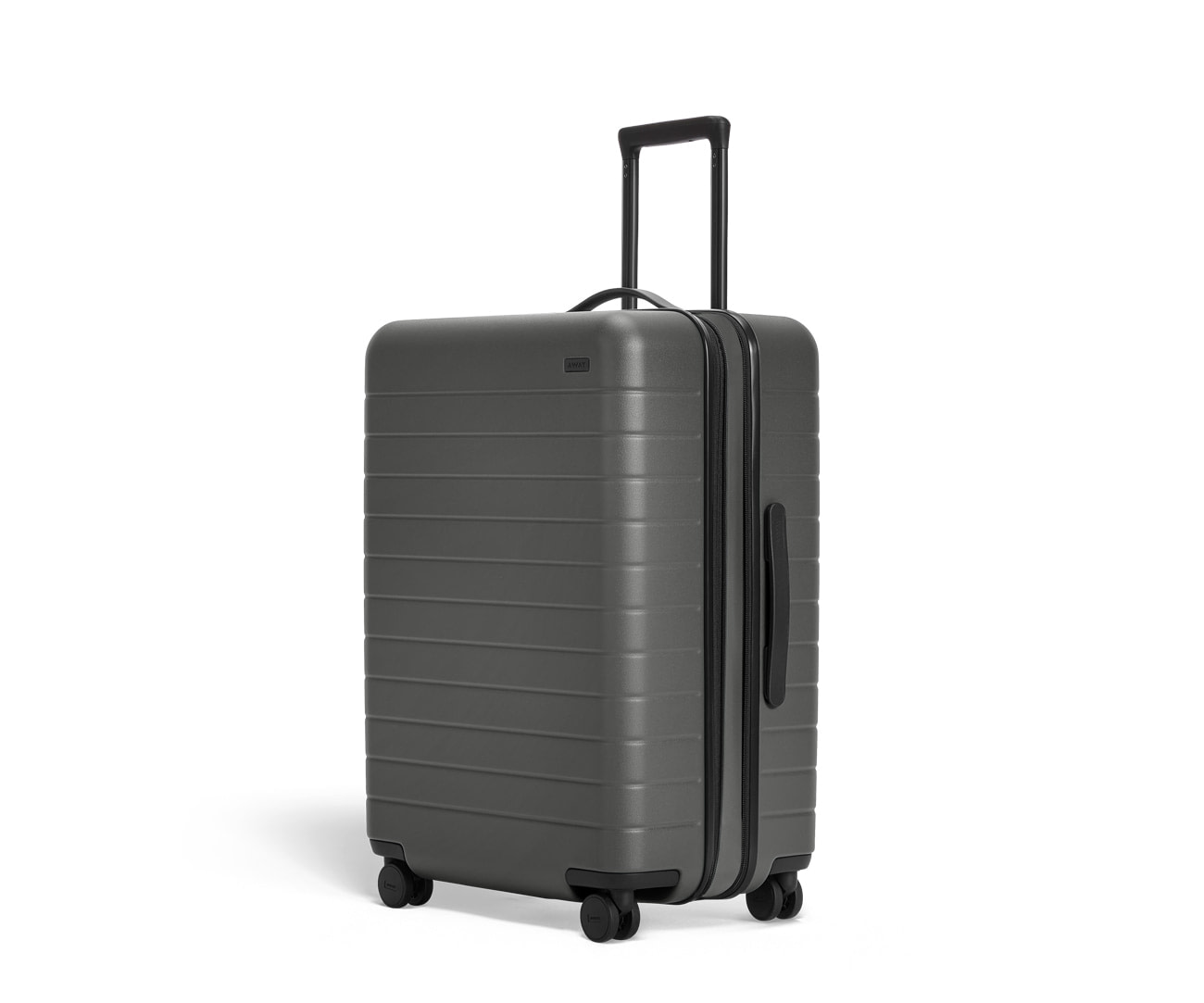 Size: 26″ x 18.5″ x 11″
Lester: 10.8 pounds
Volume: 68.8L
To a large extent, check-in suitcases for frequent travelers should tick two boxes: durability and ease of use. With its sturdy polycarbonate construction, tiered telescoping handle, and exceptionally smooth 360-degree wheels, the Medium Flex from Away delivers just that.
Lightweight, sleek and fundamentally unbreakable, this contemporary check-in luggage includes all the same smart amenities as The Medium, but, on top of that, it gives travelers an additional 1.75″ of space thanks to a clever extension of the integrated zipper.
Made from scratch-resistant matte polycarbonate in 6 chic and understated shades, this sleek and lightweight spinner features a TSA-approved lock, a thoughtful compression system, convenient interior organization and, like all models, is covered by a lifetime warranty. The beauty of this bag, however, is in its simplicity – both in design and in use. From its lack of bells and whistles to its clean, minimalist look, this is what the best travel luggage should look like!
Sports bag with wheels and double entry Tumi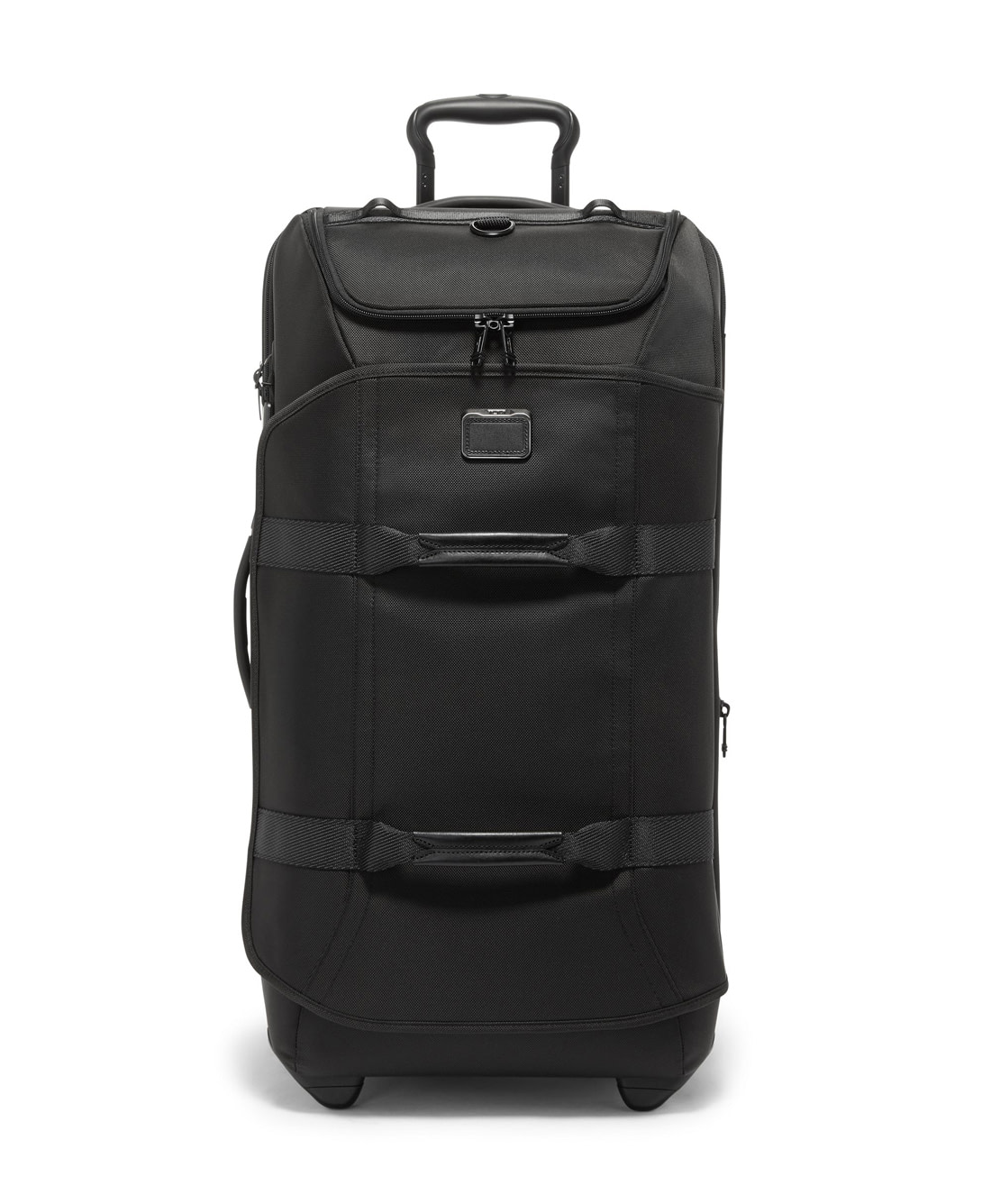 Size: 28.0″ x 14.5″ x 13.5″
Lester: 10.7 pounds
Volume: 76L
With a lightweight yet durable construction, multiple access points, and a constellation of handy pockets, this TUMI pick is the perfect plaid duffel bag.
Crafted from the brand's patented ultra-tough FXT ballistic nylon with soft leather trim, this sophisticated dual-entry wheeled duffel bag will have you covered for years of travel to come. Its meticulously organized interior keeps everything in place, while stowable shoulder straps, two smooth rolling wheels and an ergonomic aluminum telescoping handle plus top and side carry handles allow for effortless mobility through the airport and in the busy streets of the city.