This post contains affiliate links, which means that we may receive a small commission, at no additional cost to you, if you make a purchase through these links. See our full disclosure here.
The quaint, car-free town of Zermatt may be small in size, but in character and reputation, it is huge. It boasts one of Europe's top ski resorts and a plethora of exquisite dining options, all set against one of the most awe-inspiring and beautiful natural landscapes in the world. Zermatt hotels are world famous for their perfect alpine design and cozy interiors, making them popular vacation destinations.
Many luxury hotels in Zermatt, despite their size and amenities, are family owned. This means that each of these mountain properties has its own distinct vibe; each is an expression of the vision of the individual family. You will focus more on your comfort as a guest because their name literally stands for your amazing stay at their property.
The high season in Zermatt is certainly in winter; when the slopes open up, the world descends on this little corner of the Alps for some of the most exciting skiing in the world. But don't overlook a summer visit where you can spend your days hiking, swimming, or just relaxing on a sunny deck after a day at the spa.
If you're planning your own trip to the famous Alpine town or just curious about the best hotels in Zermatt, read on for a selection of the town's most intriguing staycations.
Hotel Matterhorn FOCUS
Existing at the confluence of lifestyle and design, the Matterhorn FOCUS Hotel consists of three distinct houses. In each, you'll find a mix of meticulously curated rooms and suites, some with luxurious details like skylights and fireplaces. Most rooms have balconies, so you can enjoy your morning coffee in the fresh air with a perfect view of the Matterhorn itself.
The entire property is designed to provide the ultimate way to relax and enjoy the snow-capped mountain scenery. After a morning meal in the breakfast room, you are welcome to book a treatment at the spa centre, or simply take a steam bath in the sauna. In the evening, you can stop in the lounge for a nightcap, where a crackling fire may entice you to stay awhile.
The property is located right next to the Matterhorn Glacier Paradise station, where you can take the gondola to the highest viewing platform in Europe.
CERVO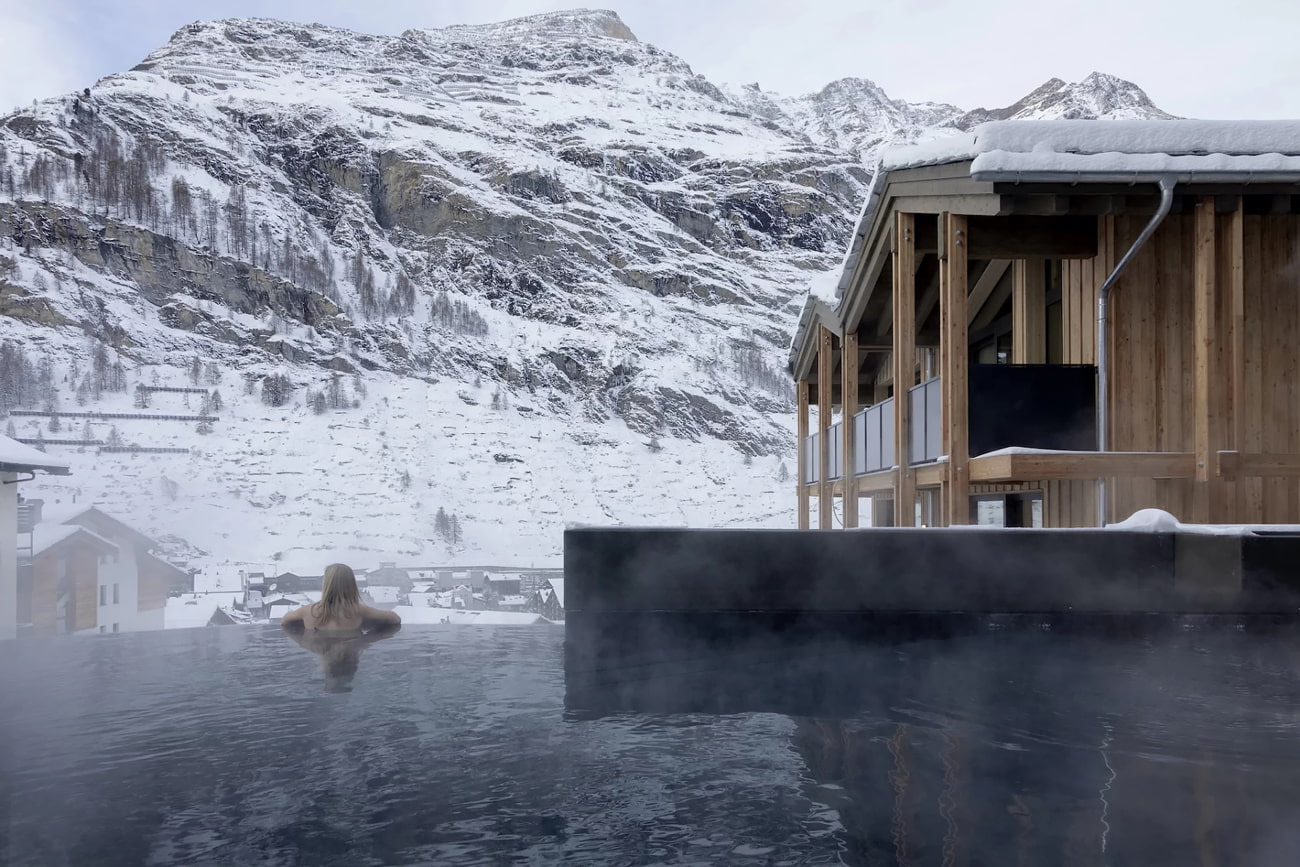 A large-concept resort, CERVO aims to cater to a variety of different styles of guest needs, and accommodations range from luxury suites to sparse family rooms with bunk beds for kids. The property has seven pavilions, containing multiple restaurants, bars, and a total of 54 rooms, suites, and apartments.
Among the hotels in Zermatt, the CERVO stands out for its spa of international inspiration: the Mountain Ashram Spa. By combining elements of Japanese onsen, Finnish saunas and Bhutanese hot stone baths in traditional local concepts, they have created a wellness spa dedicated to ultimate rejuvenation and relaxation.
Hotel Bellerive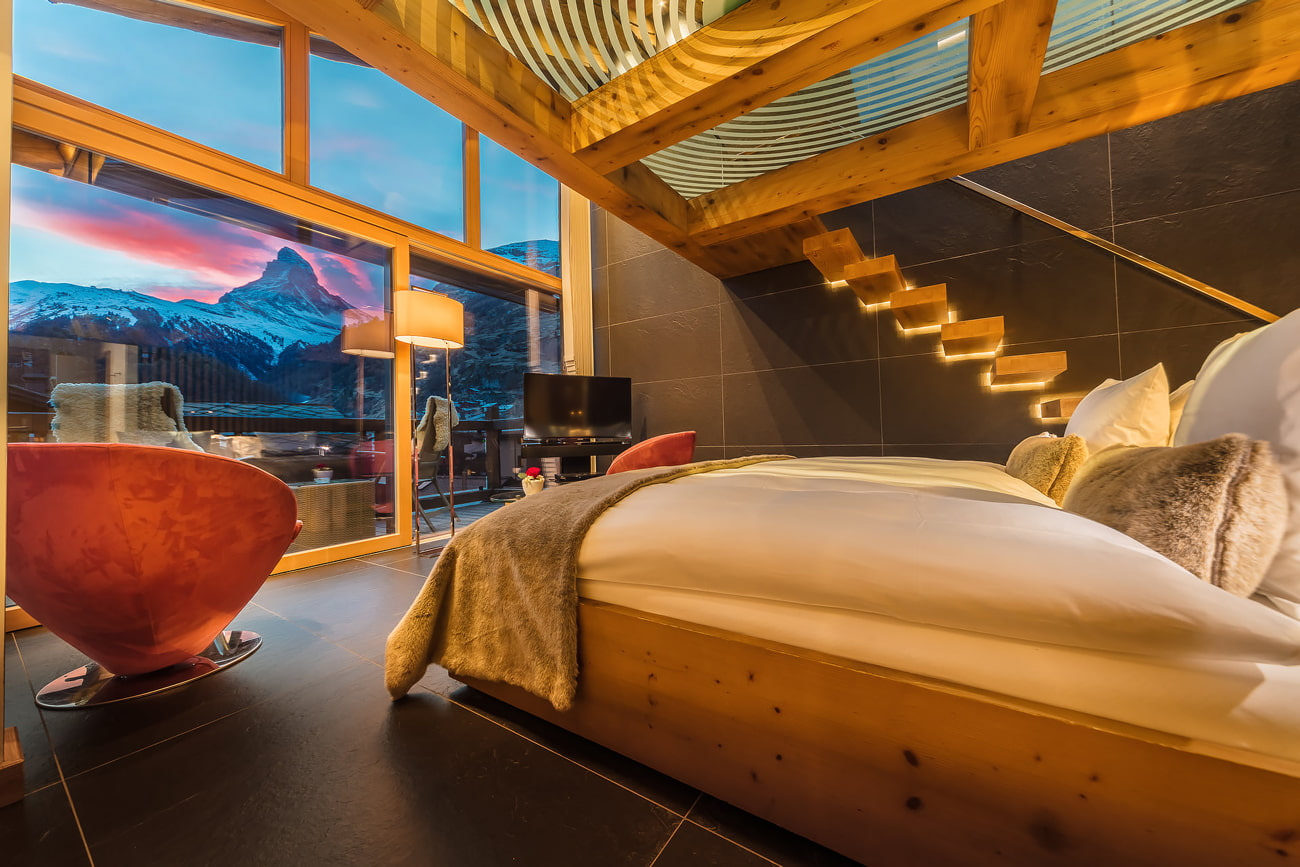 Hidden behind an original Valais façade from the 1800s lies the ultra-modern Hotel Bellerive. This historic building has been updated in every possible way, with lush, contemporary interiors, super-fast Wi-Fi, and flat-screen TVs.
Rooms range from quaint doubles to a huge three-bedroom luxury apartment, so there are plenty of options available depending on the size of your party. And as a bonus: if you just can't stand leaving your best friend at home, dogs are welcome in all of their B&Bs.
Hotel Pollux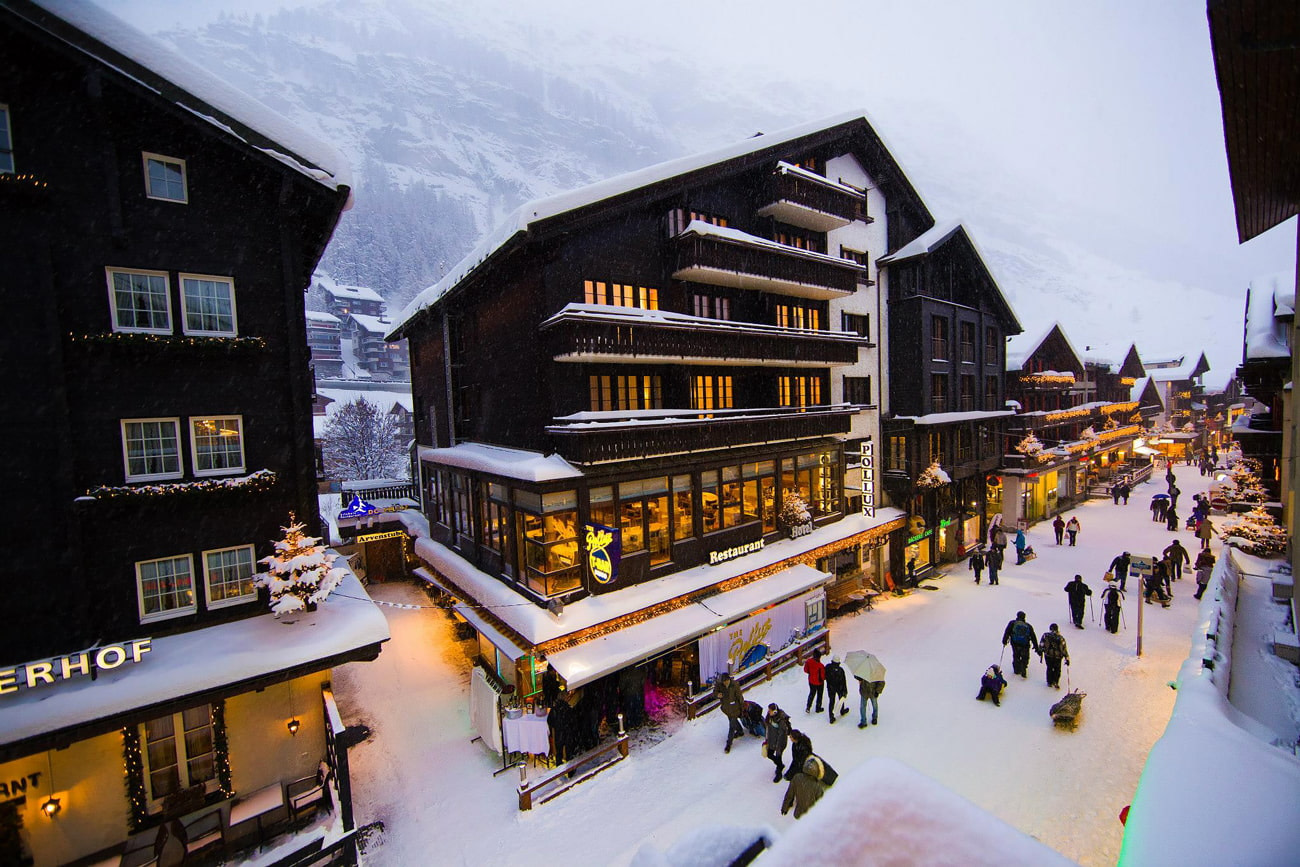 Located in the heart of Zermatt, Hotel Pollux offers stylish and contemporary luxury rooms and apartments. When designing the hotel, they paid special attention to sourcing local furniture and materials, and the entire space — the rooms, common areas, and restaurants — exudes a natural, quintessentially Alpine aesthetic.
Despite its beautiful and thoughtful interiors, a stay at Hotel Pollux asks you to get out as much as possible. The staff are well versed in the best activities for each season and will be happy to organize a tour or outing for you. In the winter, they can suggest the best places to ice skate or snowshoe, or even help you hire a helicopter, pilot and guide for a thrilling backcountry skiing adventure. In the summer, they can choreograph hiking, mountain biking, and even paragliding excursions right from reception.
Riffelalp station 2222m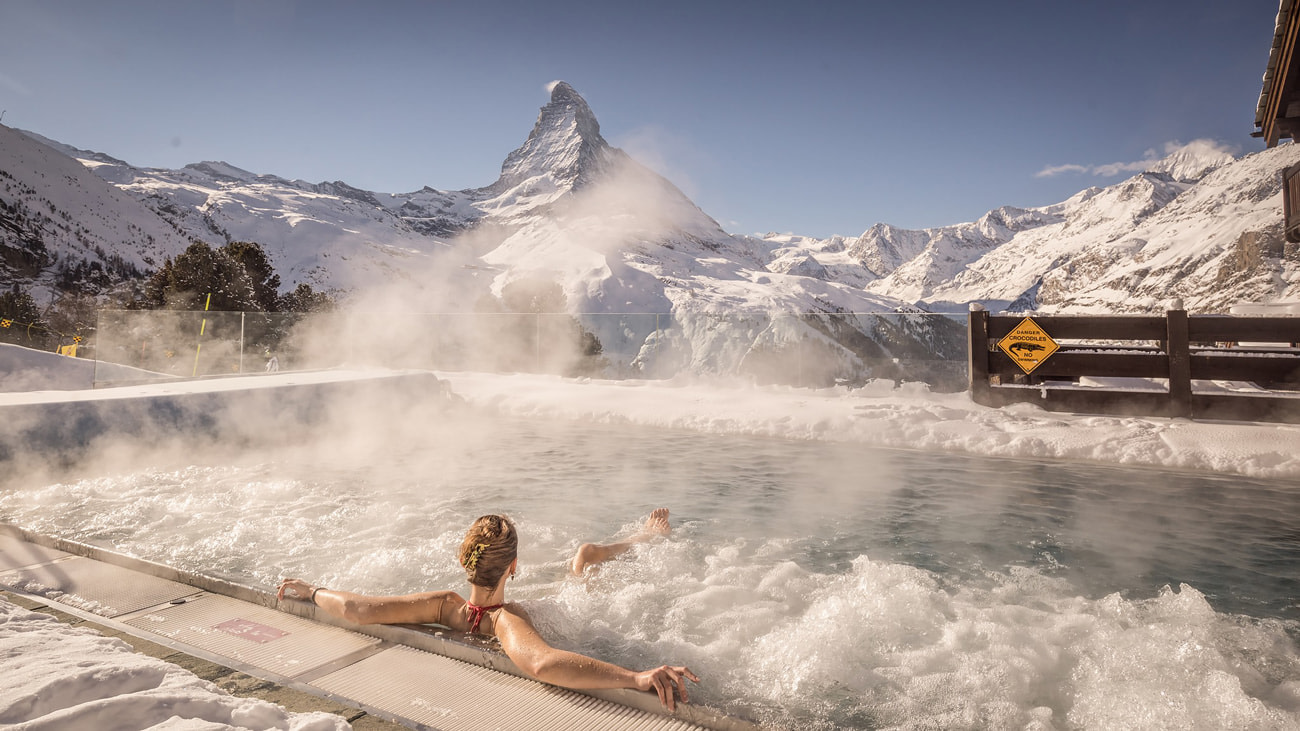 A five-star resort with a log cabin vibe, the Riffelalp Resort 2222m is a ski-in ski-out property with five on-site dining options. Because it is located well above 2000 meters, the skies here are more likely to be clear, giving you perfect views of the Matterhorn from most rooms and cloudless, star-filled nights .
The real highlight is the in-house ski and piste guide, Yann. Four days a week, he organizes various group activity outings, such as heliskiing or backcountry snowshoeing. If you haven't brought your own gear, they have a rental service for hotel guests only.
And if your perfect idea of ​​après-ski is a bit of rest and relaxation, then you're going to want to check out the highest spa in Europe: Spa 2222. They even have a grotto and a steam bath in a cave.
22 SUMMITS Boutique Hotel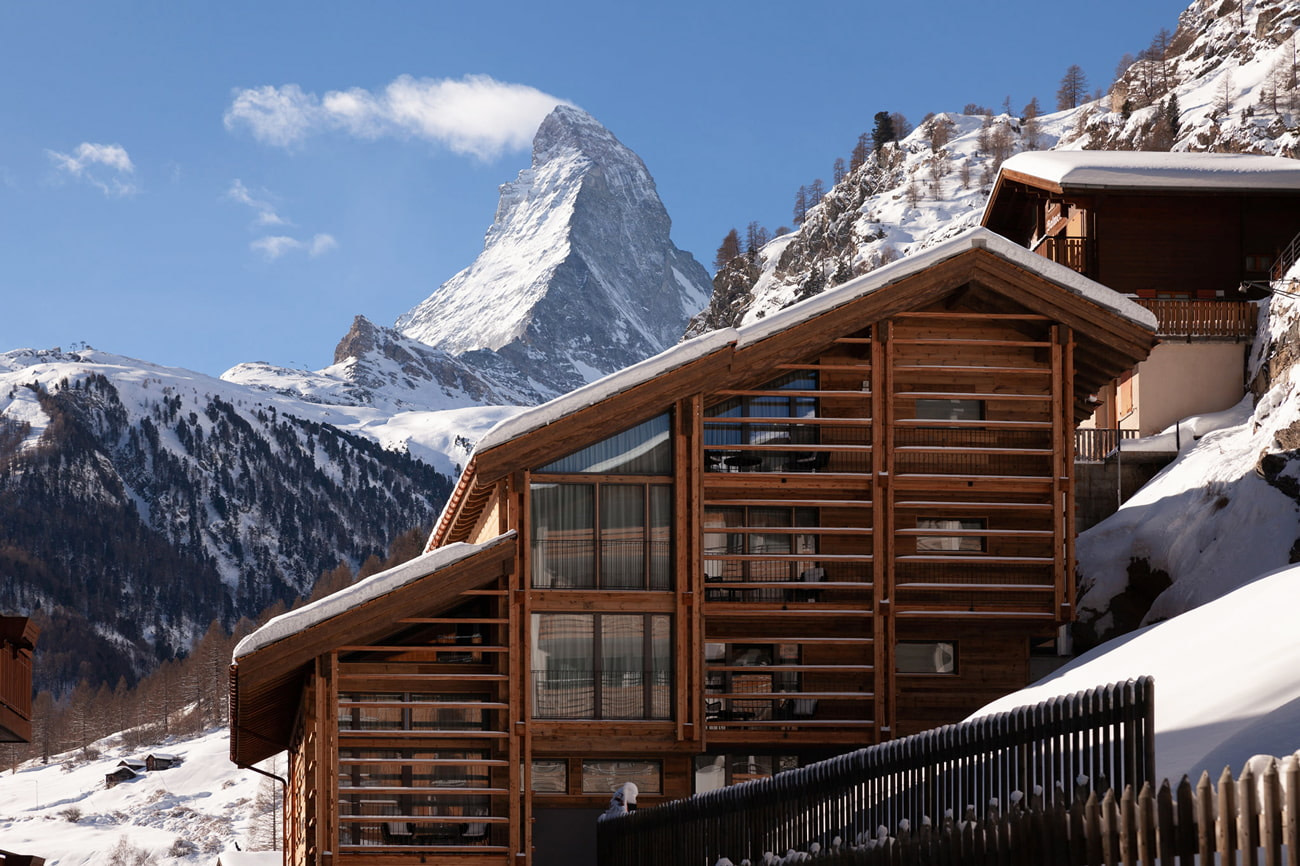 Designed to reflect and amplify the natural beauty of the area, 22 Summits Boutique Hotel is the epitome of Alpine elegance. In addition to the 22 rooms and suites in the main building, two other buildings on the property house several apartments ranging from studios to three bedrooms.
Regardless of the type of accommodation you choose, every guest at the property can take advantage of the two-story wellness spa. Here you can book a massage or simply relax in the Alpine hay bath or Finnish sauna. After skiing – or the spa – you can head to 22 Lounge to peruse the in-house library and indulge in your favorite drink by the fireplace.
Backstage opening of the hotel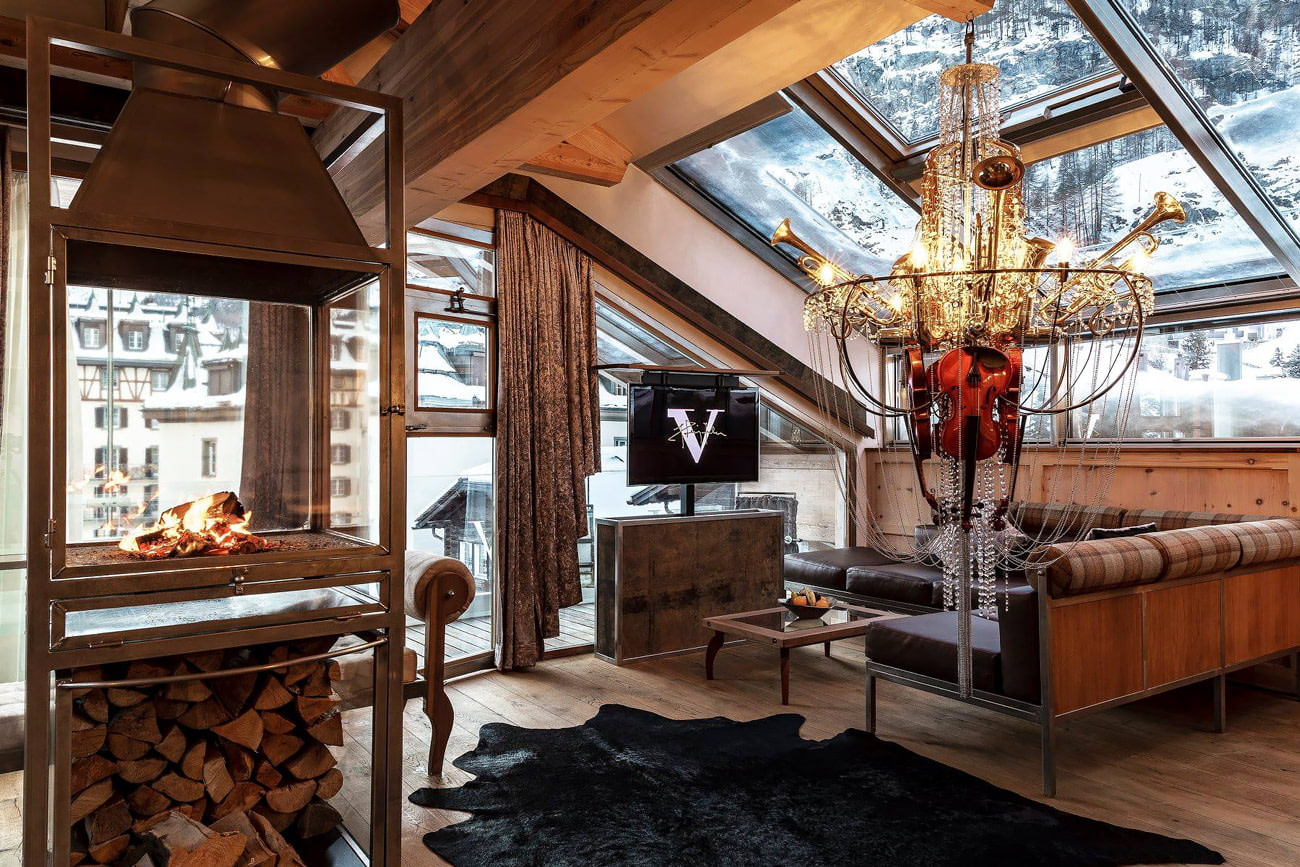 Staying at the Backstage Hotel Vernissage is like sleeping in a work of art. The hotel and its spaces are the creation of owner and architect Heinz Julen, with each room and common space a manifestation of his singular artistic vision.
Cube Loft rooms feature a glassed-in loft with a plush king-size bed. But probably the most impressive room is the Sky & Stars suite, which features a skylight that wraps around the sloping ceiling to create a row of wall-to-wall windows. If you can drag yourself out of your room, you can head to the in-house cinema, which specializes in screenings of today's most popular films.
Riffelhouse 1853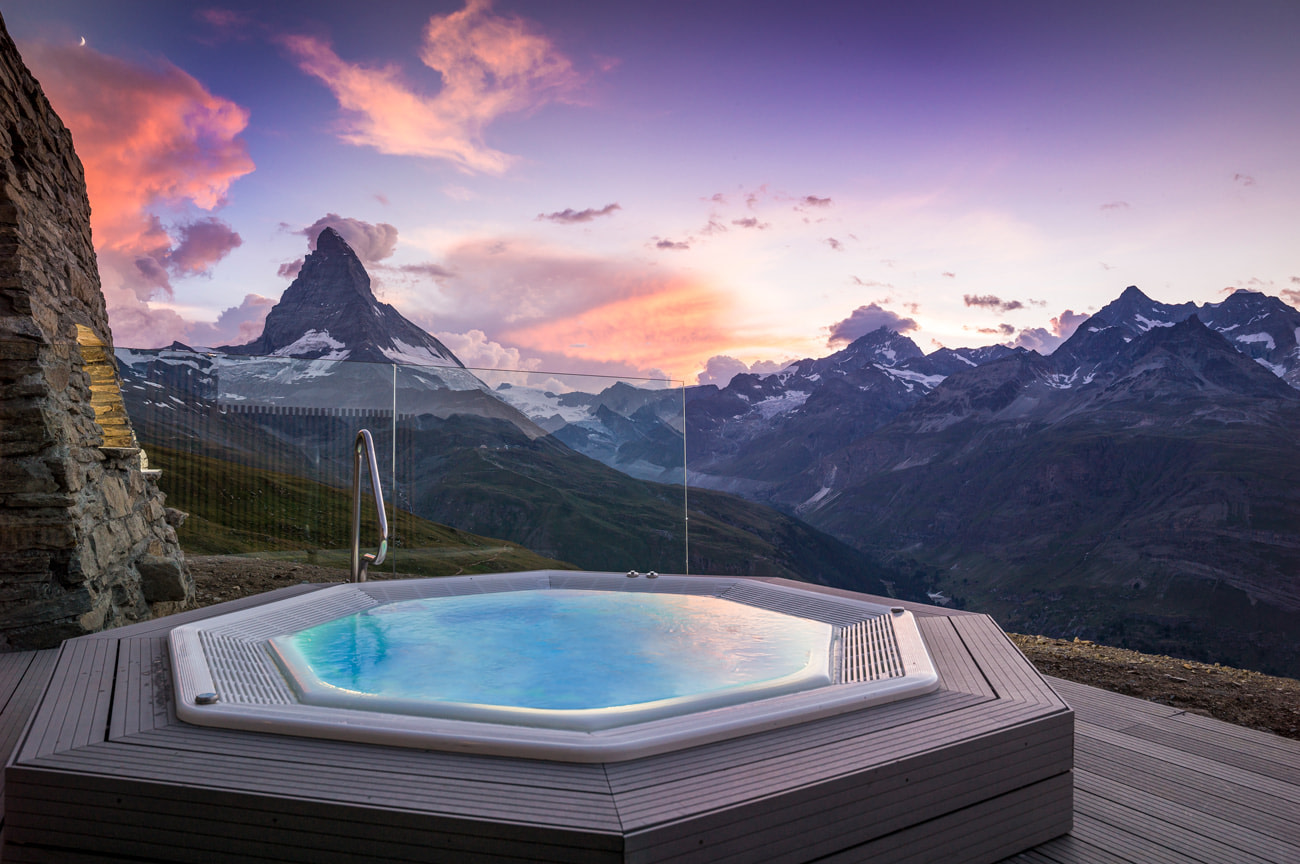 Although it may seem rustic, the Riffelhaus 1853 is more than ready to provide you with every amenity possible. The location right next to the slopes gives you ski-in ski-out access, making it easy to glide off the slopes and enjoy après-ski in no time. In addition to the bar and lounge, the unique round restaurant serves fine Swiss classics and includes your breakfast and dinner in the room rate.
Its location atop an alpine peak offers 360° views, so all rooms, common areas and the dining room are filled with spectacular natural scenery. A favorite among guests is a soak in the outdoor hot tub, where you can relax weary limbs in the shadow of the Matterhorn.
Although it may be difficult, when you are ready to leave the resort, the staff can organize a number of excursions for you. Of course there is skiing in the winter, but you can also schedule other fun activities like ice climbing, curling or even a summer getaway to see the sunrise over Lake Riffelsee.
The Omnia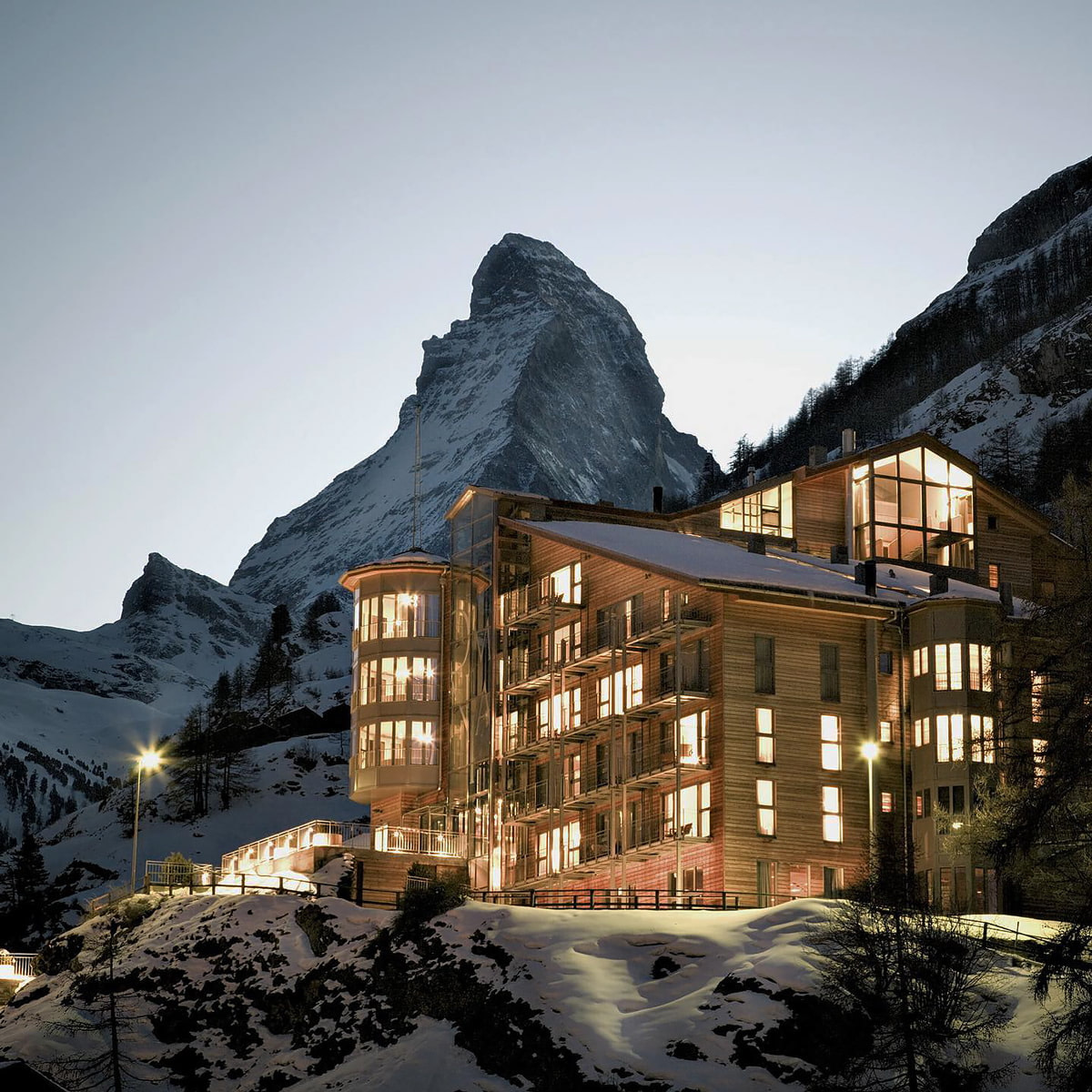 Using natural materials like wood, leather and concrete, The Omnia aims to bring the natural, austere beauty of the Alps indoors. From the basic Queen Rooms to the spotless Omnia Roof Suite, no two accommodations are the same, and to honor that point, they choose to letter rooms rather than number them.
In the wellness center, accessible only to hotel guests, you will find a Finnish sauna, a Turkish bath and private massage rooms. But the centerpiece of the spa is a huge heated indoor/outdoor pool, so you can swim outside whenever you want.
Heart of the Alps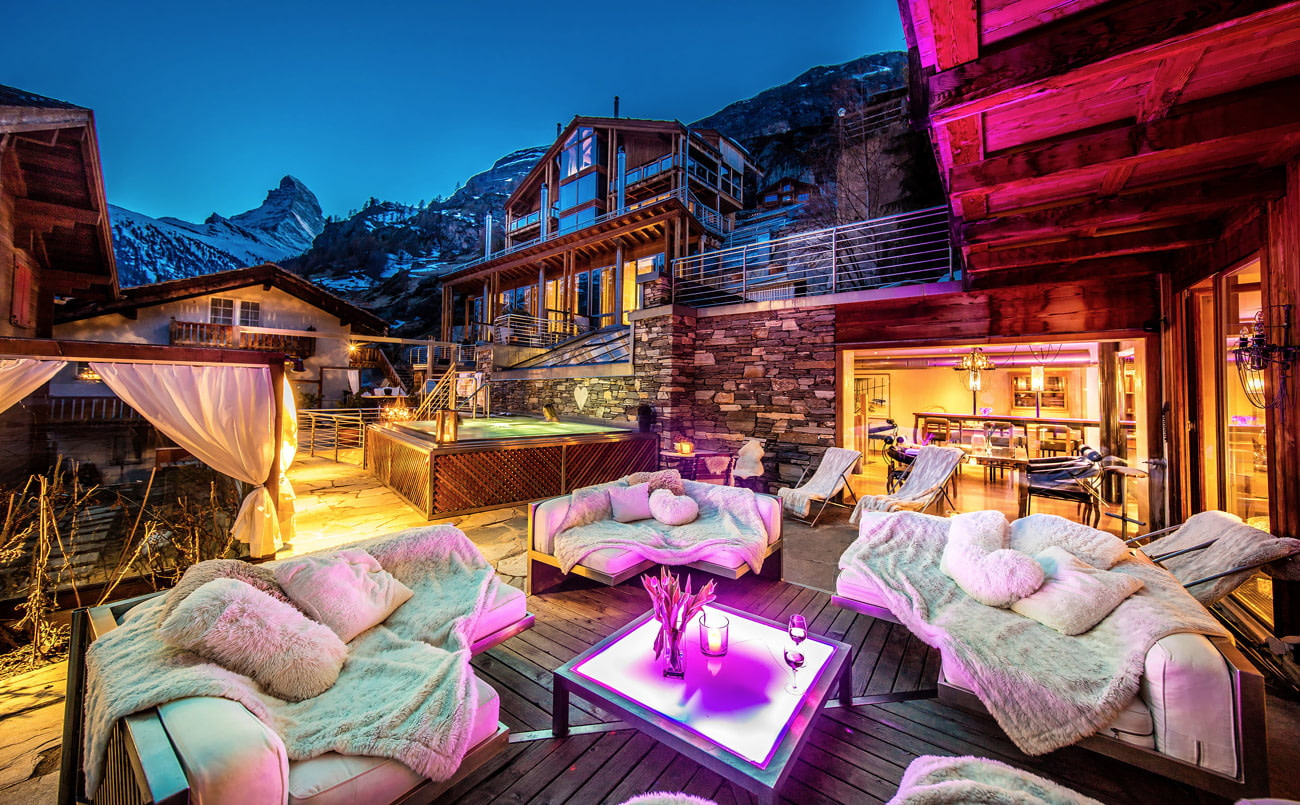 An eclecticly designed lodge that breeds community and conversation, Coeur des Alpes feels more like a retreat than a resort. Its sun-drenched rooms and suites are the perfect antidote to the winter doldrums and offer a cozy respite after a day spent on the slopes. One of the lofts even has a private sauna.
The beating heart of this hotel is its spacious lobby and lounge, featuring a central fireplace. This is where you can enjoy an après ski, relax on one of the comfortable sofas and make new friends from all over the world.