This post contains affiliate links, which means that we may receive a small commission, at no additional cost to you, if you make a purchase through these links. See our full disclosure here.
Few things say 'stylish getaway' as clearly as a gleaming aluminum suitcase. The ultimate marriage of style and strength, this exquisitely crafted carry-on offers travelers endless protection and durability, while transcending trends, genres and generations.
Strong, rigid, and complete with zipperless locking latch designs, their shells pay homage to the timeless aesthetic of classic travel trunks, yet incorporate all the functionality contemporary frequent travelers could possibly need.
If you're looking for a luggage upgrade or perhaps your very first metallic cabin suitcase, browse our favorite aluminum carry-ons below. From clean-lined minimalist designs to stunning architectural pieces, there's something for every taste, budget and desire.
MVST Select TREK Aluminum Suitcase Gunmetal
MVST Select specializes in premium quality luggage at affordable prices. Their TREK Gunmetal aluminum case, for example, is not only remarkably durable and well-designed, but also very stylish. It sports a rugged industrial design that sets it apart from other aluminum cases on the market, while withstanding the rigors of travel.
Reinforced corners, TSA-approved combination locks and a water-resistant rubber gasket complete the shatterproof aluminum-magnesium alloy shell, while its ultra-smooth swivel wheels make maneuvering easy. A telescoping aluminum handle provides ergonomic comfort and the interior compression system keeps your belongings organized and secure.
Sterling Pacific 35L cabin travel suitcase
Finished with shock-absorbing ridges and sleek leather handles, the Sterling Pacific 35L Cabin Travel Case might just be the sexiest aluminum carry-on we've seen.
The ultimate choice for lovers of two-wheeled suitcases, the Bond-esque glazed suitcase is crafted from extruded aircraft-grade aluminum and features two recessed thru-axle wheels for a smooth, stable ride every time. Double combination locks are designed to protect your belongings and open to reveal a spacious twill-lined interior with buckled straps and a stash pocket for your essentials. Plus, each piece is backed by Sterling Pacific's lifetime warranty and repair service and comes complete with a comfort and care kit containing an aluminum pen, as well as a leather care wax and a polishing cloth.
RIMOWA original cabin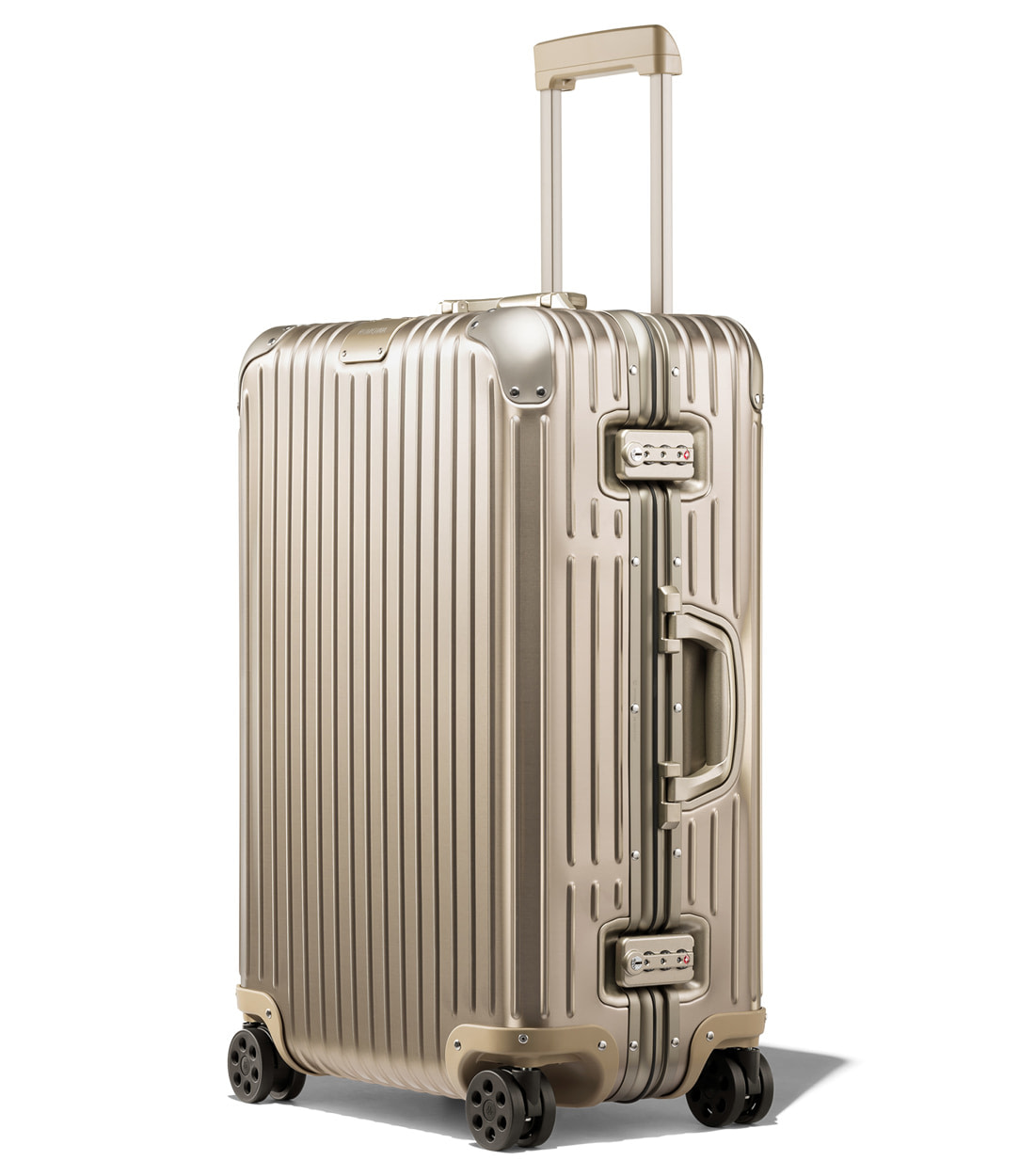 A carry-on-sized aluminum masterpiece, RIMOWA's original cabin is ready for any adventure you throw at it.
Taking inspiration from the world's first all-metal passenger plane (Junkers F 13), it's not only one of the most iconic pieces of luggage of all time, but arguably the best aluminum suitcase there is. First launched in 1950, it has become a cult favorite among travelers thanks to its impressive durability and sleek grooved design.
Its shell is handcrafted in Germany from premium anodized aluminum, a lightweight and durable material that becomes unique with age. Complete with RIMOWA's exclusive multi-wheel system and TSA-approved locks, plus two height-adjustable internal flexible dividers designed to maximize packing space while keeping your stuff in place, this is a suitcase you'll pass on from generation to generation.
Tumi 19 Degree Continental Aluminum Hand Luggage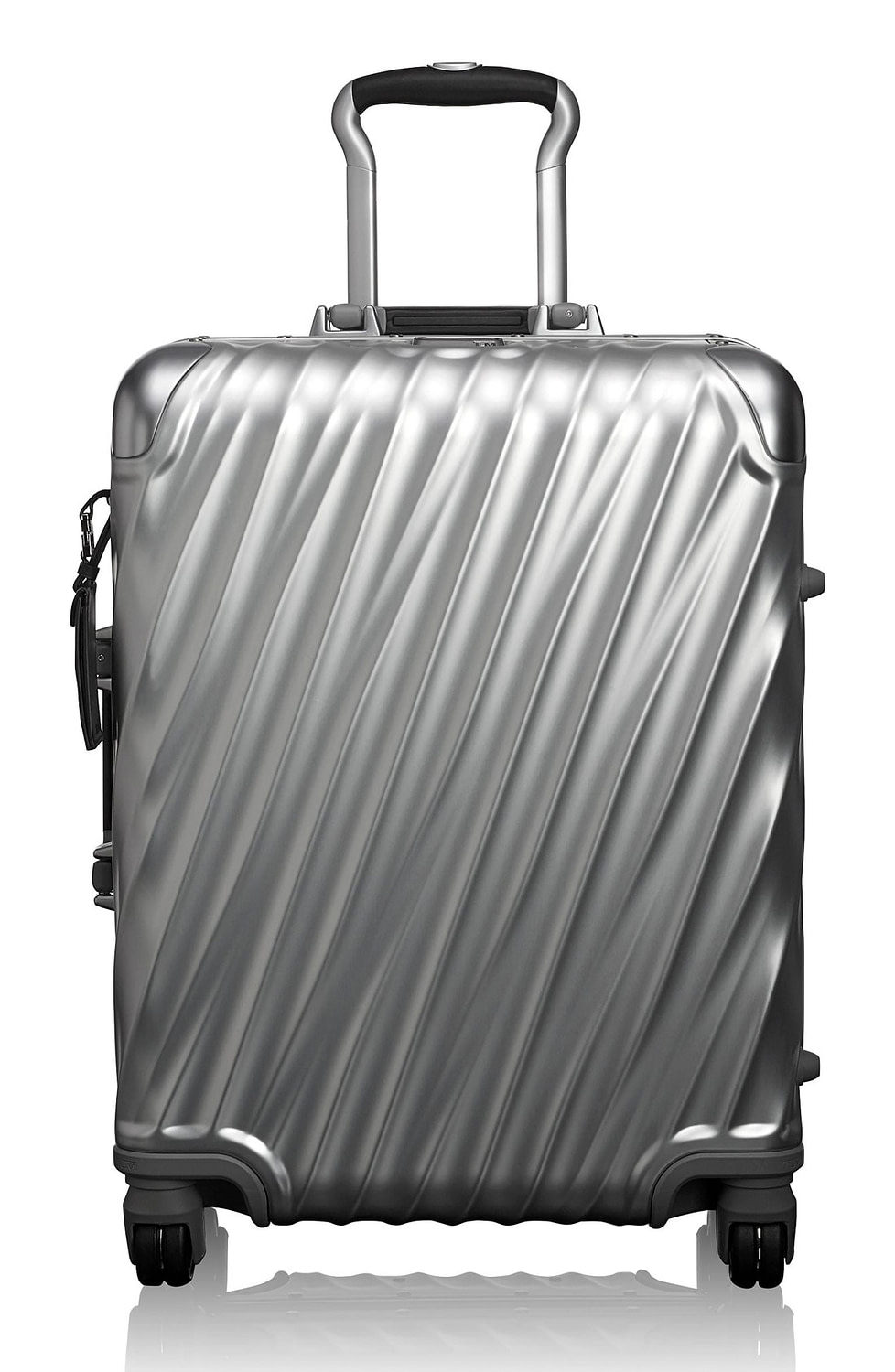 Another name synonymous with luxury travel, Tumi makes some of the best aluminum luggage out there. Take the continental 19-degree aluminum carry-on as an example; Cut from aircraft-grade aluminum, this shiny zipperless case is built like a tank, but looks like a piece of art.
Rounding out its sleek, sleek design are four easy-to-maneuver swivel wheels, a pair of built-in TSA combination locks, and a patented 3-step adjustable lightweight yet sturdy aluminum handle. To help you keep your things organized on the road, the nylon-lined interior features a smart removable garment bag, as well as compression straps and zippered dividers.
Tumi's free vintage travel sticker pack is a nice touch, as is their product recovery program (Tumi Tracer), which helps users find their missing bags using the unique 20-digit number stamped on each item. .
LEVEL8 Gibraltar 20″ Full Aluminum Cabin Suitcase
If you're looking to enrich your luggage arsenal with a quality piece of aluminum but want to keep pocket-friendly, LEVEL8 has you covered.
Their Gibraltar Full Aluminum Carry-On 20″ is built on a sturdy aluminum base and sports a sturdy, minimalist hard shell made from an aerospace-grade aluminum-magnesium alloy.
And the best part, it has all the features of the more established brands, but at a fraction of the price – think smooth-rolling 360° wheels, easy-to-close clasps with TSA-approved locks and a telescoping handle ergonomic (also made from an aluminum alloy) for easy maneuvering in busy terminals. Riveted corners enhance both durability and aesthetics, while a set of 4 free storage cubes maximize luggage space and keep your belongings organized.
Zero Halliburton Pursuit Aluminum International Carry-On Suitcase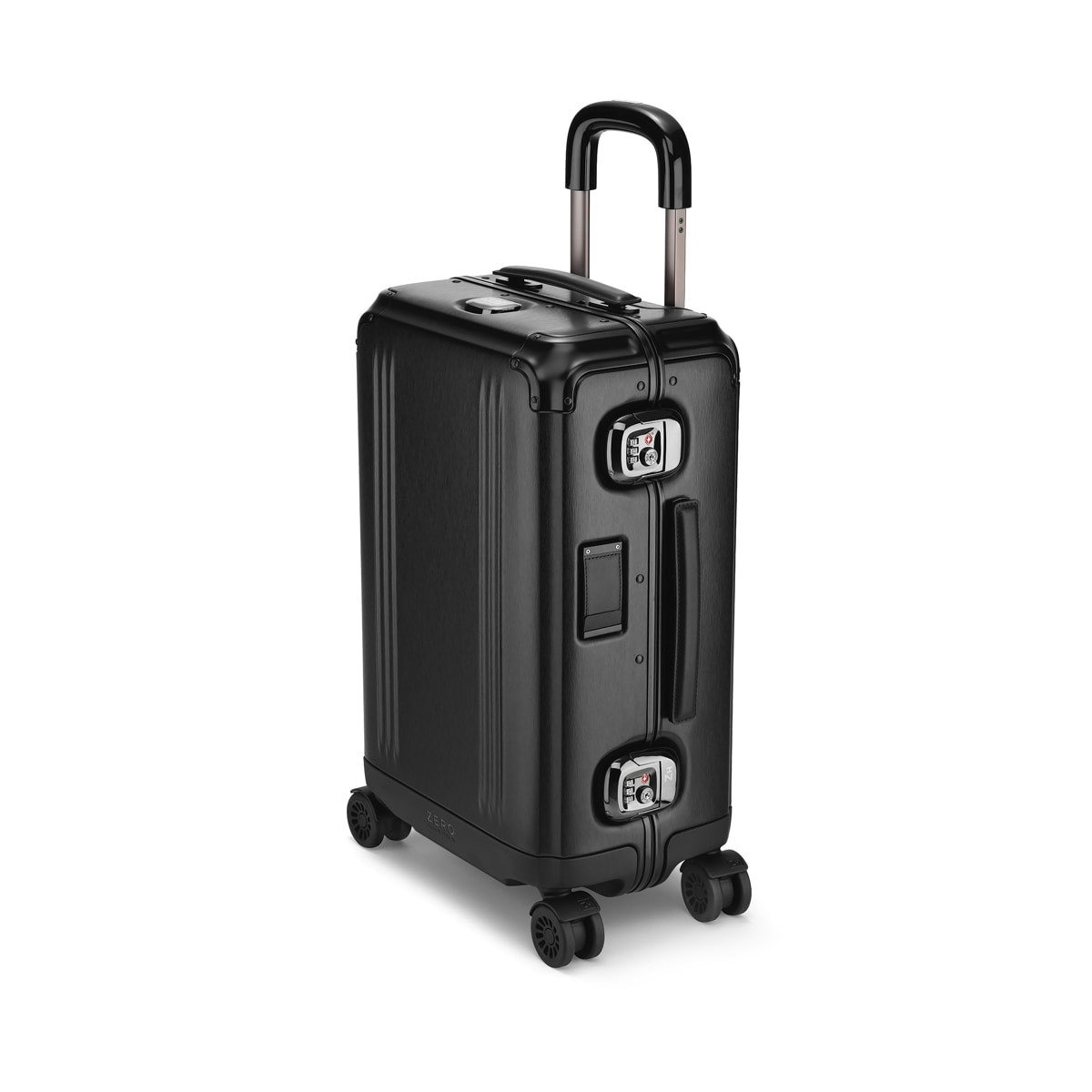 From the brand that launched the aluminum suitcase in 1938, this suitcase combines style and substance in equal measure.
Zero Halliburton's Pursuit Aluminum International Carrying Case takes durability and protection to new levels with its patented ZH Concave Edging architecture and brushed aluminum surface designed to minimize the appearance of scratches. The sturdy, beautifully sculpted shell swivels and glides on spinner wheels and features a stylish monogrammed interior with a secure compression system, convenient side pockets and a discreet garment clip for a range of hanger sizes.
An individual serial number ensures each product is unique, while quirky design touches such as rounded latch locks, luxurious mid-century pull handle and magnetized leather ID cover add just that. panache is needed in this timeless aluminum case.
Monos Hybrid Hand Luggage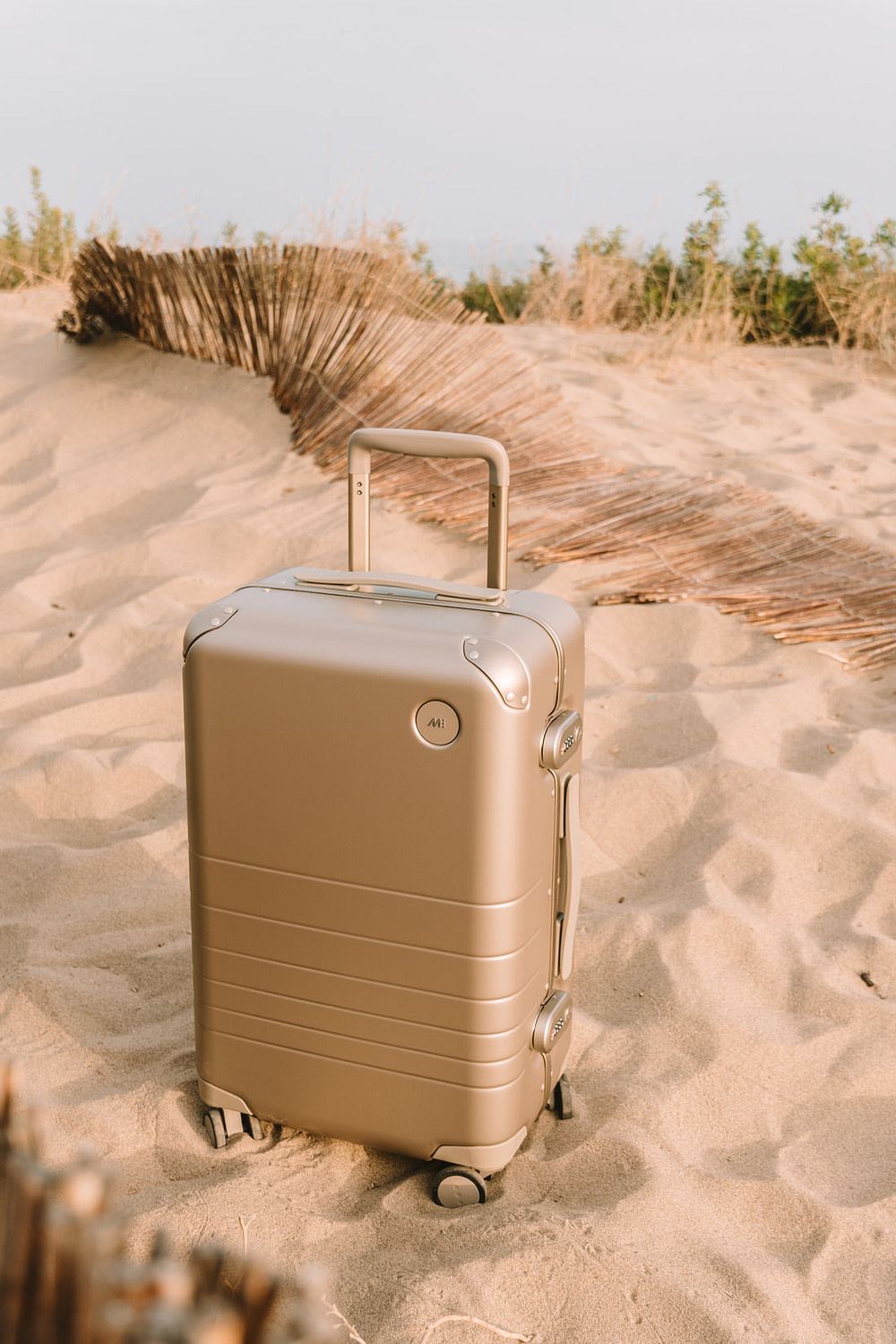 Are you hesitating between an aluminum case and a polycarbonate one? Clad in a tasteful metallic finish, the Monos Hybrid Carry-On combines the best of both worlds in a sleek, zipperless case that ticks all the boxes for today's modern traveler. It features ultra-soft Hinomoto wheels, stylish ultra-microfiber vegan leather details and an intuitive telescoping handle with 4 height settings and the release button underneath.
Sporting a clean, minimalist design and a zipperless anodized aluminum frame with a durable dual-latch closure system, the aerospace-grade polycarbonate shell protects contents without weighing you down. As for the interior, this beautiful hybrid suitcase is fully lined with luxurious 350D antimicrobial fabric and features an integrated compression pad for efficient packing. Keep it classic with their sleek silver casing, or go bold with shimmering champagne or sexy jet black!
FPM MILANO Spinner Aluminum cabin suitcase 53 cm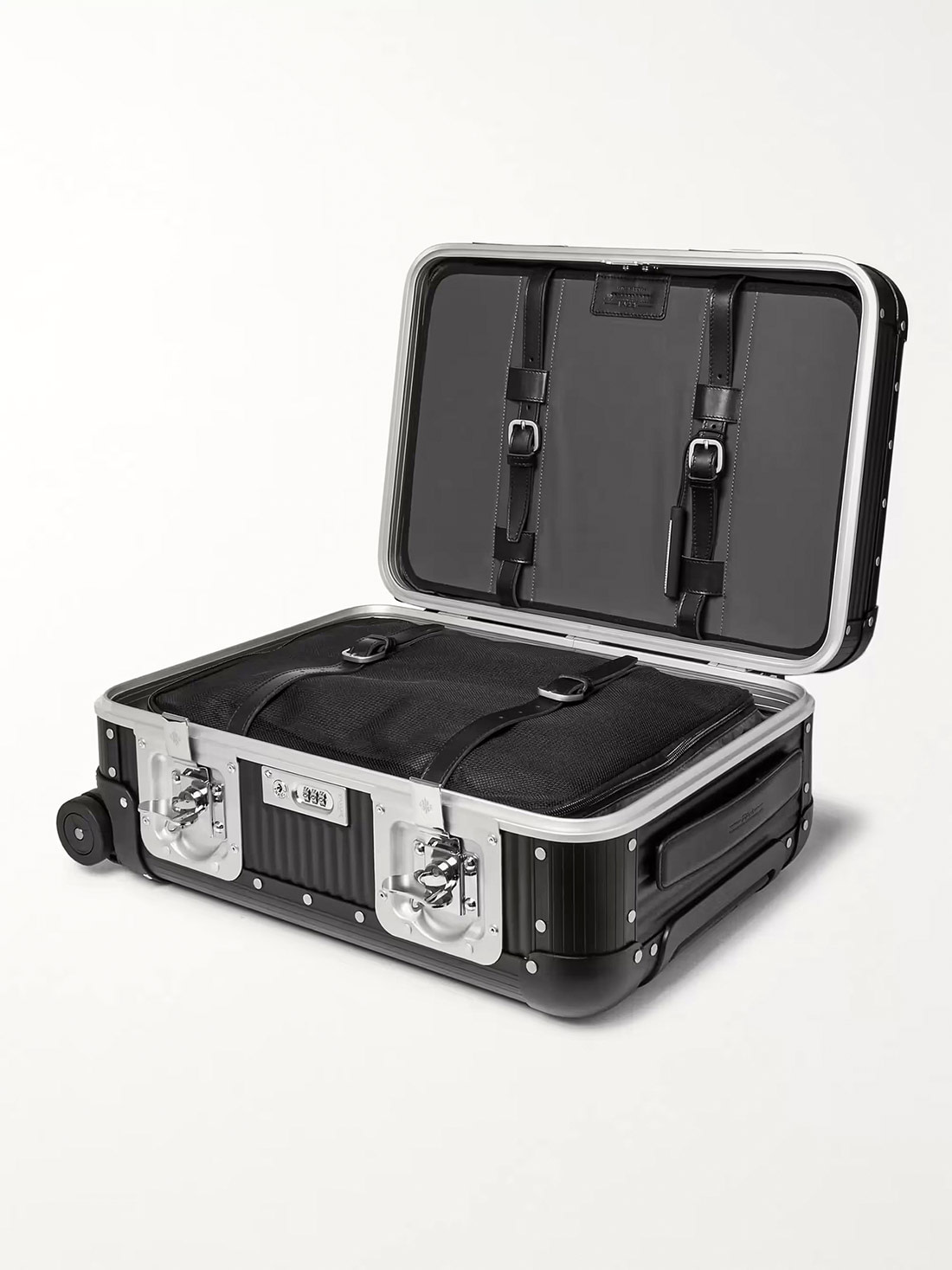 Taking inspiration from the travel trunks of yesteryear, this beautiful vintage-looking aluminum suitcase with chic leather details is the ultimate statement of style and strength.
Designed by award-winning industrial designer Mark Sadler, FPM Milano's Spinner 53cm aluminum carry-on suitcase features sturdy butterfly latches, integrated TSA locks and quiet Japanese wheels for a smooth and stable ride on any surface. The spacious interior is equipped with handcrafted leather straps, a divider and a zipped pocket to store small items.
Samsara Tag Smart Aluminum Silver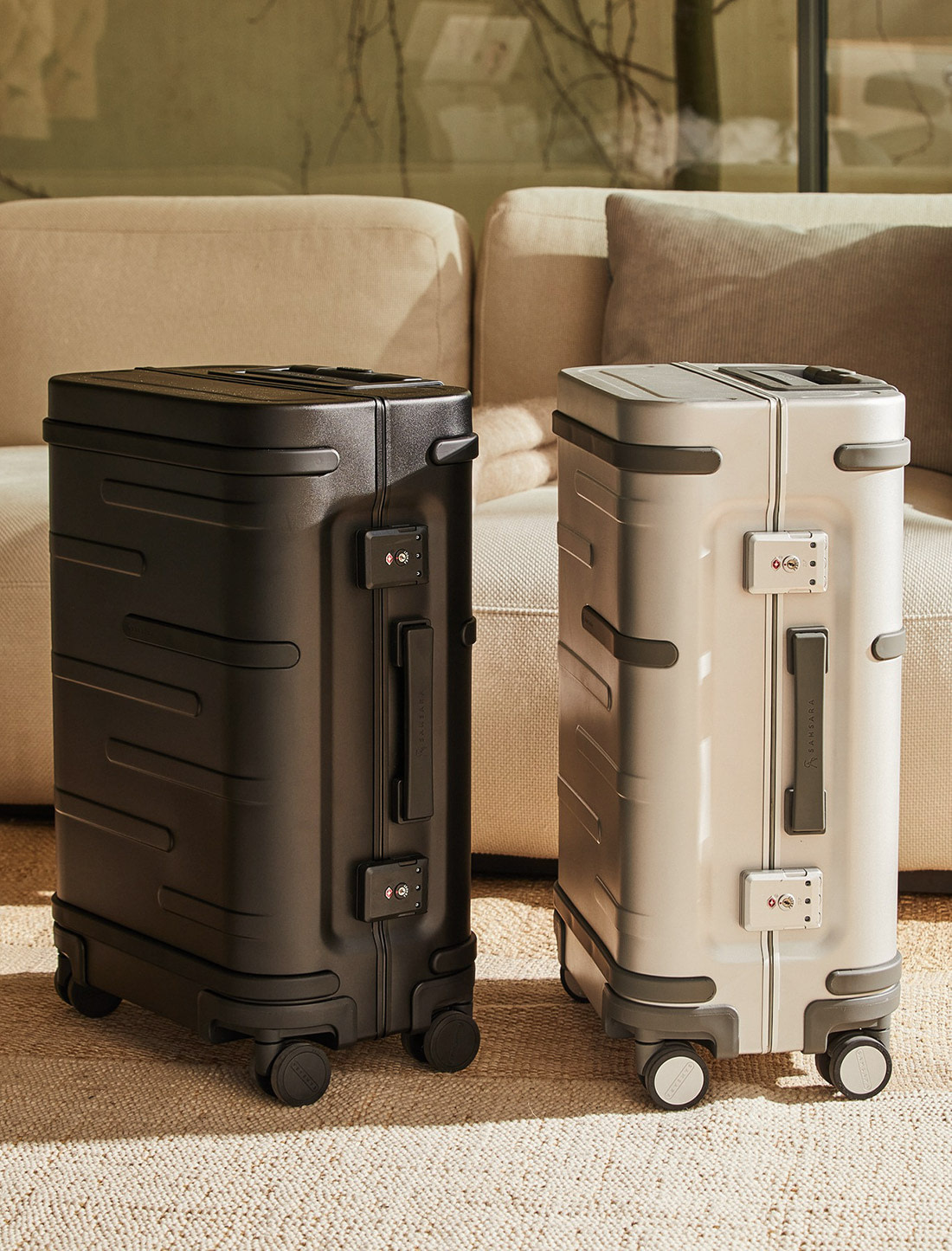 A special AirTag compartment for easy tracking and a flat top designed to be used as a laptop desk in transit make the Samsara Tag Smart Aluminum stand out from the crowd. Made of recycled aircraft-grade aluminum alloy, the trackable suitcase comes with an extendable telescoping handle, 360° spinner wheels and TSA-approved combination locks. A handy set of 8 packing bags, suitable for storing everything from clothes to shoes to toiletries, completes this stylish set.
Verage Birmingham Aluminum Carry-On Suitcase
If you want to own a beautiful piece of aluminum but aren't ready to commit to the price that comes with Rimowa, the Verage Birmingham Aluminum Carry Case is another winning ticket.
Constructed from an ultra-strong aluminum-magnesium alloy with molded corner guards, this hard international spinner is not only visually appealing but also exceptionally sturdy. Its 360° replaceable wheels provide superior maneuverability and smooth gliding in all directions, while the aircraft-grade aluminum telescoping handle features 4 stops and an ergonomic grip for maximum comfort. The anti-odor liner is a little luxury that goes a long way.
Away The Carry-On: Aluminum Edition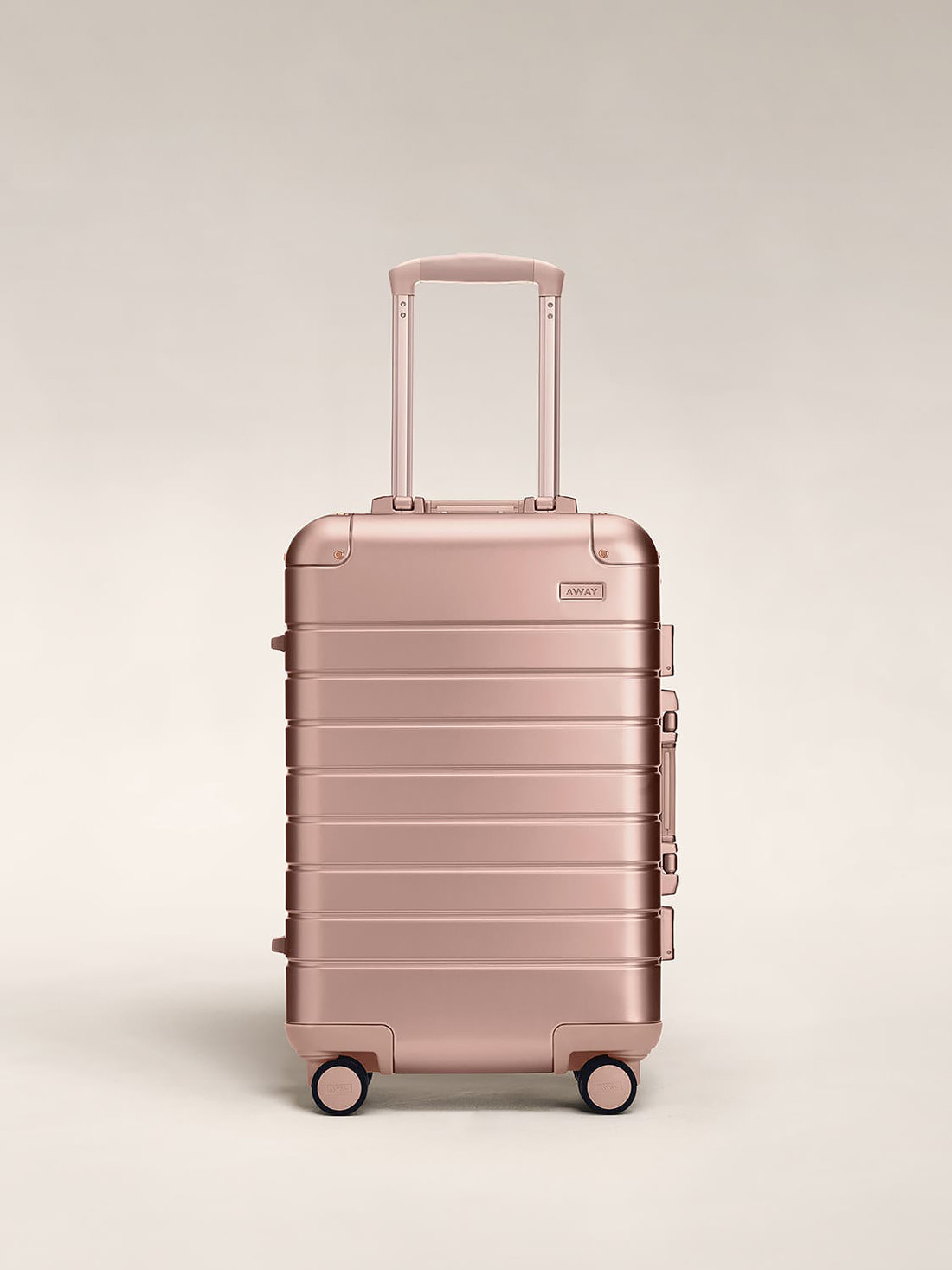 Internet favorite luggage brand Away may be best known for their lightweight, indestructible polycarbonate shells in pretty pastel hues, but their striking aluminum designs are no less inspiring.
Available in silver, rose gold, and onyx black, the sleek aluminum carry-on features Japanese wheels, slow-release leather-trimmed handles, and two TSA-approved combination locks for added security. It also features the brand's signature interior compression system for effortless storage, plus a handy built-in battery bank for recharging your devices while in transit.
The durable aluminum luggage is built to withstand a lifetime of travel and has a futuristic-chic aesthetic that's sure to draw envious glances wherever it lands.